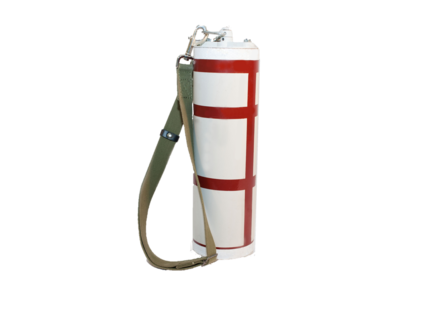 The station is developed to provide wireless communication of quickly installed surveillance systems, to alert and search for people caught by an accident, to quickly repair damaged sections of communication lines of stationary systems, including during the liquidation of accidents and rescue operations.
Certificate of conformity TR CU № RU C-RU.AA87.B.00693
The station provides routing of information flows over the network, sufficient for transmitting information from sensors, mobile and fixed telephone communication, video surveillance; provides redundancy of communication channels: through an intact cable channel or through a dedicated radio channel. Has a built-in lithium-iron-phosphate battery (LiFePO4) (capacity is determined by the functional requirements of the customer), and can also be connected to an external network of 127 or 220V when equipped with a module of wired power.
It is the main element of the mobile underground wireless infrastructure and is recommended for use in the rapid deployment of a full-featured communication system in underground facilities during rescue operations, as well as in underground mines and mines not equipped with stationary equipment of the SBGPS network or in areas where the functioning of the SBGPS network is violated.
---
Specifications:
The number of radio channels corresponding to the IEEE 802.11 b/g/n/i standard is two;

The operating frequency range of radio channels is from 2,400 to 2,483.5 MHz;

The communication distance between stations is not less than 200 m;

The station is powered by the internal battery pack;

The power consumption is not more than 10 W;

The duration of the work of the station from the battery pack is not less than 24 hours;

The time of full charging of the battery pack with a voltage of 7.5 V and a charge current of 2.0 A is not less than 19 hours;

Display and the ability to configure basic parameters, as well as monitoring the status of communication and power through the RFC 2616 protocol (http);

Overall dimensions: height not more than 500 mm; diameter is not more than 110 mm;

Weight - no more than 5 kg;

MTBF - not less than 10,000 hours;

The life time of the station is 10 years (except the battery pack). The life time of the battery pack is 3 years;

Level of explosion protection in accordance with GOST 31610.0 - special explosion-proof electrical equipment with RO marking Ex ia or is I Ma.
---